About MAKS Car Rental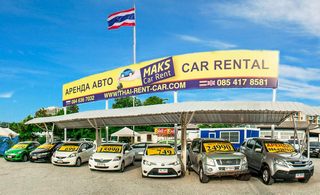 CAR RENTAL IN PATTAYA
MAKS Car Rental offers both short-term and long-term car rental in Thailand.
Our company was founded in 2008 and is based in Pattaya. Over this time, we have managed to build up a good reputation. Our customers rate us highly for the quality of our service, customer satisfaction and attractive financial terms, especially with cars starting at just over 500 THB per day for short term rentals during the slow season; rates may increase during Pattaya's High Season.
We were the first car rental company in Thailand to offer our customers GPS navigation systems and child seats for free. The service package also includes delivery of the car to the hotel, house or condo in Pattaya, Jomtien, Na Kluea and Na Jomtien Beaches, unlimited mileage and insurance. Transfer from Bangkok airport can also be easily arranged.
Our fleet of cars, trucks, SUVs and minibuses for rent consists of reliable and practical models which are only serviced at official service centers. This makes the car journeys comfortable and safe. Western style reliability with prices that reflect the Thai lifestyle and lower cost of living.

MAKS Car Rental in figures:
1. Market experience — since 2008
MAKS car rental has been renting cars and trucks to locals and expats for 8 years, with many return customers.
2. Employees – 10
Our employees are as diverse as the clients they serve, speaking English, Thai and Russian.
3. Cars –more than 100
The huge fleet available at MAKS car rental in Pattaya has something to suit all needs and budgets. Whether you need a truck for the weekend, or need transport to commute from Pattaya to Bangkok for a year or more, MAKS has a solution for you.
4. Clients — more than 15000
Our reputation ensures that our customers keep coming back year after year, and many refer their friends and colleagues for all their car and truck rental needs.
5. Maximum client car rental time — 2 years 6 months
MAKS car rental does not offer a rent to own service. There is a time limit on the rental term.
6. Maximum mileage in 10 days – 5,468 km
Long term rentals come with unlimited mileage, however, short term rentals do have some restrictions. This is necessary to keep our prices competitive.
7. Cancelled bookings - 0
Advantages of MAKS Car Rental
1. Rental cost is lower than for international companies
Personal service at a lower cost than the big guys.
2. Minimum security deposit required for car rental which is returned when you bring back the car in normal condition.
3. All vehicles are insured by Thailand's best insurance company
The last thing you want to worry about is insurance while driving in a foreign country. MAKS Car Rental has you covered.
4. You don't need a credit card to rent a car, but can use one if you want to.
A cash deposit is perfectly acceptable; however, we do provide the option of credit card payments.
5. With us, you get the car you booked. With any international company, you only choose the car category
When you book a specific car with MAKS Car Rental, that is the car you receive, not something similar.
6. All cars are maintained to the manufacturer's recommendations and are only serviced at official dealers
7. You are guaranteed to get the car you booked
8. Anybody over 18 can rent a car from us, as long as they meet the other requirements.
Customer Reviews about MAKS Car Rental
Read the reviews from our customers. These comments on our trustworthiness, experience and reliability will help make your choice.
Car rental at MAKS Car Rental -
Absolutely reliable and Ultimately easy!