ROAD TRIP FROM PATTAYA TO AYUTTHAYA
22.07.2017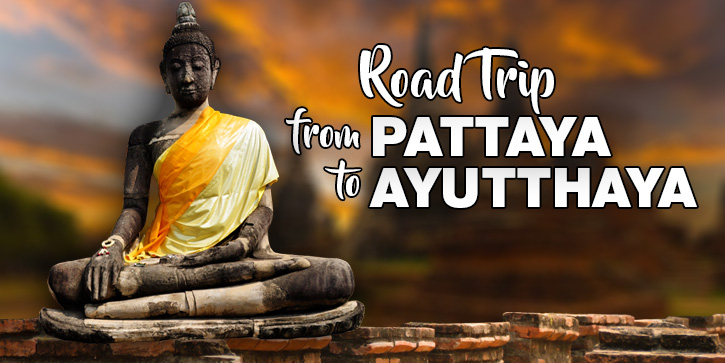 Having the freedom to rent a car in Pattaya and just hit the road, is one of the greatest freedoms known to man. Add some top tunes into the equation and an ice chest full of your favourite snack and drinks, and you are just about ready to tackle any journey that comes to mind.
Residing in Pattaya does have many benefits, and one of them is that Pattaya is located in central Thailand, so you can set off in just about any direction and an adventure awaits. There are so many places just waiting to be explored in the Kingdom that your biggest problem might be where to start, but here we look at the ancient capital of Siam namely Ayutthaya.
How To Get There
Like so many road trips in central Thailand, Bangkok is the hub where to start. Obviously Highway 7 makes it really easy to get to the capital but is a tad boring. You may wish to choose to keep to the more scenic routes if you have the time.
Once you get to Bangkok keep to the outer ring roads to skirt the heavy traffic, and then head north. The total distance keeping to the direct main roads is just under 170 kilometers and would take around 4 hours if you did not take any detours.
But the pleasure of taking such a road trip is exploring the roads less trodden, and investigating the small villages that you happen upon on the rural routes. Stopping off for a freshly cooked lunch at a road side shack and meeting the locals is all part of experiencing a road trip, rarely do you meet interesting characters or see beautiful waterfalls at a motorway service station.
Ayutthaya
Pronounced ah-you-tah-ya, Ayutthaya was the capital of Siam from the mid-14th century right up to the late 18th century. This period of Siam's colourful history is vastly regarded as the period when Thai Style was developed.
The power and riches of Ayutthaya came from its past trade, and it was one of the most important trading ports of its time, welcoming merchants from all over the world especially from Europe. These waterways that surrounded Ayutthaya acted as routes for trade and as protection for its boundaries.
The city was named by its founder - King Ramathibodi, who used its name from the old folklore tale the Ramakien.
Things To See
Ayutthaya is a remarkable place and crammed for things to see for the visitor. The original wooden building of the temples and palaces were destroyed by the fires that levelled the old capital. That is why only the stone temples and larger building remnants remain.
The temples have their own unique style, part Siamese, part Khmer and part Sri Lankan, which reflects its old history as a busy port. The ruins of Ayutthaya are now designated as a UNESCO World Heritage Site and justifiably so.
To begin this epic road trip to Ayutthaya you need to hire a car in Pattaya. Maks Car Rental is ideal for Pattaya Car Rental, they have many kinds of vehicles available for hire that you can select exactly the right one to suit the road trip that you have decided to embark upon.
Then get behind the wheel, belt up and enjoy a thrilling drive into the magical Thai countryside with your friends.