A FIVE DAY GRAND TOUR OF THE GOLDEN TRIANGLE
26.07.2017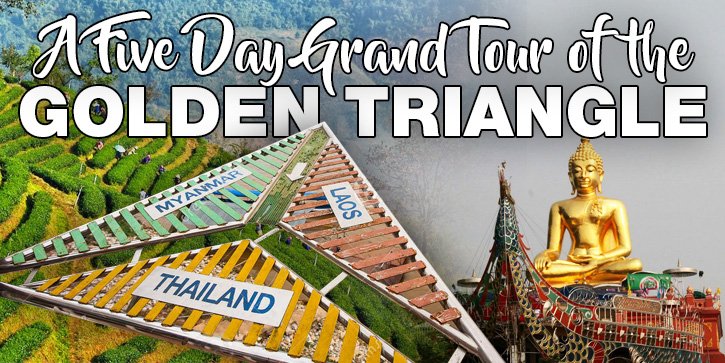 Having first selected and hired your touring car from MAKS Car Hire in Pattaya, you have to make your way along the highways of central Thailand to your departure point for this remarkable drive which is a Grand Tour of The Golden Triangle.
Perhaps you have already heard of the Golden Triangle and the myths and reputation that is connected with its past and to some extent its current situation. This tour will take you around the region of the Golden Triangle which is in the upper north of Thailand.
You will experience driving along the borders with China, Myanmar and Laos and take in all the ethnic diversity and great cultural history that the whole area is embedded with. You will also marvel at the beautiful mountainous scenery as you motor through the hills.
Day One - Chiang Mai - Chiang Dao
After resting after your long journey from Pattaya you are ready to start your grand tour from historic Chiang Mai. Head towards Chiang Dao with a leisurely stop at the elephants training camp at Mae Sa. This day's journey is over a hundred and seventy five kilometers so there is a lot to get through.
Your day's journey will hug the Myanmar border and you can spend a little time in the wonderful town of Fang.
Day Two - Chiang Dao - Mae Salong
Driving through the wonderful Fang National Park your first stop will be around Thaton and you can choose to have lunch at one of the many restaurants that are dotted along the Mekong river.
This is a great area to buy some souvenirs as the local Hill Tribes sell their unique wares. Driving out of Thaton you will start to ascend the mountain pass and remember to leave enough time for photos of the breathtaking mountain scenery.
Day Three - Mae Salong - Chiang Saen
The third day will take you to the actual Golden Triangle, and this day you will only have to drive around a hundred kilometers. When you arrive at Mae Si the road ends abruptly at a bridge that connects Thailand with Myanmar. You can shop for many trinkets in Mae Si that mostly have been made in China.
Take time out to visit the Myanmar side of the river where you can buy the same goods as before but even cheaper.
Day Four - Chiang Saen - Chiang Khong
This is your shortest journey on the whole tour, so take your time and take in as much as you can. Perhaps indulge in a boat trip on the Mekong. For truly memorable photographs you must visit Baan Sop Ruak the actual place of the Golden Triangle.
There are superb temples to visit as you follow the Mekong in the direction Chiang Khong. You will pass through the quaint towns and pass a few Lahu and Lisu villages.
Day Five - Chiang Khong - Chiang Mai
A long day of driving to take you back to Chiang Mai is ahead of you on day five. But take time out to see sights such as the hot spring at Mae Kachan and the market there. The rest of the journey is quite enchanting as there is a fast flowing river strewn with boulders to accompany you on your journey.
The recommendation is that you spend a couple of days vacation in Chiang Mai before you tackle the highways south back to Pattaya. This road trip is well worth the effort of getting up to Chiang Mai for, it offers you another part of Thailand that is definitely far from the madding crowd.
We hope this has given you an idea for a great road tour of Thailand. Why not talk to Maks Car Rental for the best car hire rates in Pattaya?