BANGKOK TRAFFIC
05.07.2017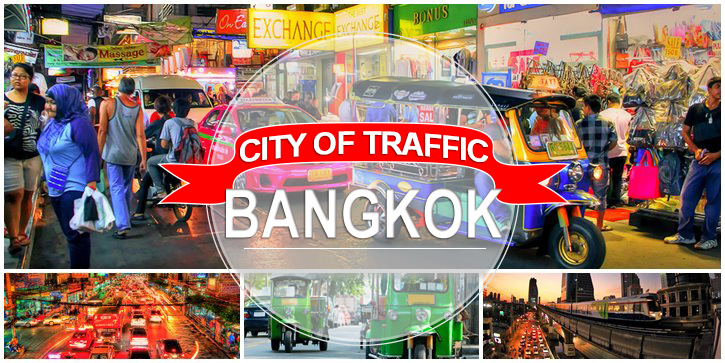 Bangkok, the Big Mango, and famed throughout the world as a buzzing, cosmopolitan, thriving, urban metropolis. The city's streets are one of the most evocative examples of everything that Southeast Asia represents. Hot, noisy, and full of people scurrying around hither and dither in every direction.
For the tourist this melting pot of organised chaos is what they had only seen in movies, and in some ways Bangkok is like one big Asian film set. But when you have to live and work in the Big Mango things are a little different.
Many people staying in Pattaya frequently visit the capital and by renting a car in Pattaya, the journey is really easy to make. Highway 7 links the two cities and the journey takes approximately one and a half hours.
Getting Around
The Thai Government have invested heavily in public transport over the past thirty years and by far the best way of getting around the city is by the MRT (Underground ) and the BTS (Skytrain) systems.
However these public transportation systems are both quite limited , with only 35 stations on the BTS rail system and 18 on the MRT Underground.
So people who want to travel in areas of the city not covered by either the Skytrain or the Underground have no choice but use the crowded roads.
City Of Traffic
Driving in Thailand is one thing but driving in Bangkok is completely different. Bangkok is famed for its atrocious traffic problems and The Big Mango makes nearly every list for the worst traffic jams in the world.
Although investing heavily on infrastructure and public transport the traffic seems to be getting worse. When navigating the capital by car it is advisable to drive outside peak hours, in 2012 there were 6.8 million vehicles on a road system that was designed for 2 million vehicles. The most recent survey estimated 8.28 million, which indicates the situation is getting worse.
The good news is that if you are simply skirting the city to drive to another destination, then Bangkok has excellent ring roads, and fast toll roads. Circumnavigating Bangkok is simple, and sometimes is the answer of getting about the city.
Road Etiquette
When it comes to driving on Bangkok's crowded roads it is similar to anywhere else in Thailand. Always leave space for a motorbike to squeeze in between you and the vehicle in front, either in standing traffic or at junctions.
Try to keep to the centre of the road as the left hand side is often blocked with vehicles stopped to unload or just parked illegally. Watch out for traffic overtaking on both sides, especially motorcycles. And above all do not get impatient, Thai drivers will test your resolve to the limit by trying to cut in at every conceivable moment, just ease off the gas and relax and be assured you will get there just as quickly.
If you are thinking of car rental in Pattaya and braving Bangkok's roads, then contact MAKS Car Rental who are the best car hire rental company in Pattaya City. They have an impressive range of vehicles that will suit any journey you may want to embark upon.