CAR RENTAL PATTAYA - WHAT VEHICLES ARE AVAILABLE
12.02.2017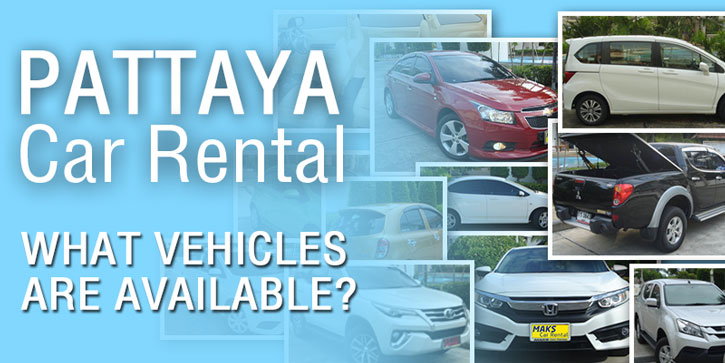 Car Rental Pattaya options are plentiful in the popular resort town. There are many companies to choose from offering luxury cars, budget cars, trucks, SUVs, and minibuses for rent. Here at Maks Car Rental Pattaya the focus is on value for money. Keeping all rentals maintained in accordance with the manufactures suggestions at authorized dealers, and maintaining inventory that is not older than 5-6 years old is paramount to clients returning to rent from Maks Car Rental Pattaya. To see the latest happy customers check both Google and Facebook reviews for Maks Car Rental Pattaya.
Budget Car Rental Pattaya
If you are staying in Pattaya on a budget and you wish to rent a car you are in luck. Maks Car Rental has cars for all needs and budgets. There is no credit card required to rent, however, renters can use one for the deposit if they choose too. Budget rental cars available in Pattaya come in several makes and models. Drivers can choose a Nissan March or Mazda 2. These cars are great on gasoline mileage, and will seat up to five people.
Maks makes it easy to upgrade your car to an automatic transmission if you prefer. Choose either a Nissan March or a Mitsubishi Mirage model and the rental cost is only about 10% higher than the manual transmission budget rentals. To upgrade to a Sedan check out the Nissan Almera. The Almera has the most room for passengers in the Budget rental category.
Economy Plus Car Rental Pattaya
The Economy Plus car rentals in Pattaya are very fuel efficient. The Economy Plus category has both Toyota and Honda models available. They rent for a higher rate than the budget cars, however, they still get great gas mileage, and are not so hard on the wallet. The engines are a little bigger and the model years are newer than the cars in the budget rental category.
Under the Economy Plus rental program in Pattaya drivers can choose from a Toyota Vios a roomy sedan with a 1.5 liter engine, or a Toyota Yarisa 4 door hatchback car with a 1.2 liter engine, both have automatic transmissions. If Toyota is not your favorite, also available for rent is the Honda Jazz a 1.5 liter engine hatchback with an automatic transmission, if you prefer to rent a sedan then the Honda City is an excellent idea. The City is known for leg room and seats up to 5 passengers comfortably.
Truck SUV or Minibus Rental Pattaya
Many of our customers rent cars and trucks in Pattaya for a variety of reasons. Renting a truck or SUV allows you to transport large amount of cargo, or renting a mini bus can allow you to transport a dozen passengers or so. Whatever your reasons for renting a larger vehicle MAKs has many choices to suit all wants and needs. Road trips are a favorite for our guests. There are so many interesting things within a few hours to see and do. Take a truck to Rayong for the day with a barbecue and have a beach day with real surf, or pack up and go camping in the mountains.
Pattaya is So much more than just the Nightlife
Pattaya is so much more than nightlife. The central location of Pattaya is ideal for touring Thailand while using Pattaya as your home base. It has it's own airport making it easy to make short international hops without the hassle of going into Bangkok. Driving a day south or north will allow you to see the entire country. Pattaya has everything that Bangkok offers except the crowds and you can replace the super heated summers with a breezy beach. There are many national parks within one to two hours drive. There are several islands that have car ferry service and the new ferry service that crosses the bay from Pattatya to Hua Hin in just three hours, cutting drive time in half. No more driving all the way around.
Pattaya is also improving the roads. They have learned from Bangkok and have aggressive plans to stay ahead of the curve. The tunnel that is nearly finished to bypass Sukhumviht is only the first of four. Central Pattaya Road is going to lose it's cables in the coming year. They will be buried in the ground. They have done this in Lop Buri a small province in central Thailand already and it looks lovely. Central Road will be the first and then the city will work its way out from there.
These improvements to the city of Pattaya will only make it more appealing to tourists, travelers, and expats. The many different outdoor activities make Pattaya a very family friendly place. The nightlife is concentrated into a relatively small area and is very easy to avoid all together if you choose. Alternatively there is all you need in the nightlife district and everything is walking distance. MAKS is great for expats that live in town and need to get out and stretch their legs. Get out of the city for a day or a week. Short term and long term rentals are available from 1 day to 2.5 years on all vehicle categories.
All rentals longer than 7 days qualify for free delivery. What kind of car do you want to rent in Pattaya?