DRIVING IDEAS FROM PATTAYA
13.12.2017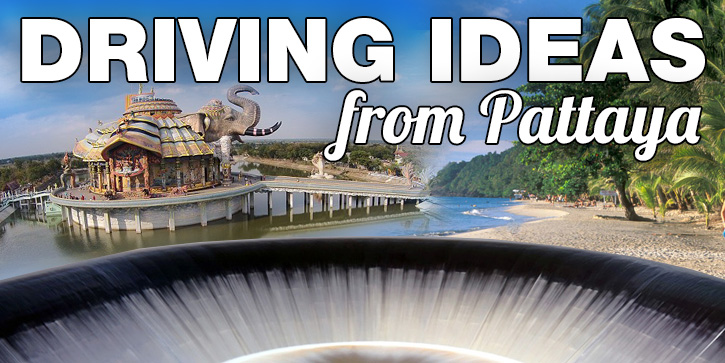 If you are a resident in Pattaya or perhaps just some spending time taking in all the amenities and attractions, you probably will consider the possibility of hiring a car and exploring some more of Thailand.
Renting a car in Pattaya is easy, just head down to MAKS Car Rental and select one of their great vehicles for your forthcoming trip.
Pattaya is the perfect place to explore Thailand as it is in the central part of the Kingdom and close to good transport infrastructure.
There is nothing quite like taking a road trip with family or friends, packing a weekend bag and plotting your route to the destination, it is all part of the fun.
In this blog we take a look at possible destinations that are available as a short break or a weekend road trip from Pattaya.
Rayong
Many people head down to Rayong to board a ferry to Koh Samat and never spend any time in the town. This is a great pity as Rayong is definitely worth more of a look and is only a couple of hours drive from Pattaya.
The beaches of Rayong are far quieter than those of Pattaya and the water is a little clearer as the population is far smaller. Architecturally there are many Wats and Temples to visit and Rayong has some fine local markets to wander about and peruse bargains. If you like seafood then Rayong has some great restaurants where the prices are more than reasonable.
Trat
Further along Sukhumvit Road no.3 past Rayong you will find Trat which is close to the Cambodian border. And it is another destination that is famous as an island staging point, in this case Koh Chang. In fact just off the coast of Trat there are 52 islands scattered about offshore that offer unspoiled long, pristine beaches with crystal clear waters and amazing corals.
Trat is the perfect destination if you just want to unwind and have a peaceful break, the surrounding countryside is picture perfect and ideal for lovers of nature.
Nakhon Ratchasima
Nakhon Ratchasima province lays amongst wide plateaus and mountainous countryside. Locally known as Korat it offers fantastic hospitality, fascinating culture and traditions and awesome scenery.
It is home to the Khao Yai National Park which has an array of different animals including Black Bears and Asian Elephants. The park is a wonderful place to visit for the whole family, there are superb trails to explore, homely log cabins and also campsites.
Korat town is a lively place with a population of over 200,000, so there are shopping malls, sports stadium, a zoo, temples, museums and all-in-all a gem of Issan.
All these great destinations are perfect to get to by car rental from Pattaya, and depending how many there is in your party your choice of vehicle has to reflect this. MAKS Car Rental has a large fleet of vehicles that are perfectly suitable for such journeys, contact them today to reserve your transportation.