DRIVING IN THAILAND
18.07.2017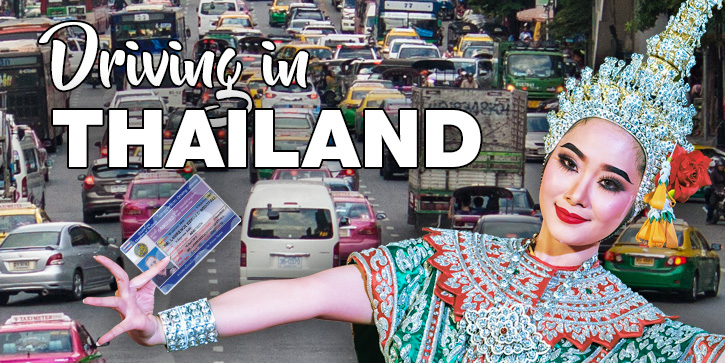 So you have just decided that a road trip is your next weekend activity in Thailand, if you are a tourist or a resident in Pattaya there are some great destinations close by that are easily accessible by hire car, and many Pattaya Car Rental firms will be more than happy to provide the appropriate vehicle for your trip.
However, driving in the Land of Smiles is not as easy as one might think and there are certain considerations that must be taken into account.
Driver's License for Thailand
If you are visiting Thailand or have been a resident for less than six months then you may drive with an international driver's license. After this you must apply for a full Thai license.
The documentation that will be required for this is: passport with valid non-immigrant visa, proof of address, two passport photos, your home driving license, a health certificate and the relevant fee money.
Drive On The Left Hand Side
For many foreign visitors it may be a little strange to drive on the left hand side, but Thailand shares a common trait with the UK and all vehicles drive on the left hand side.
Having said that do not be the least surprised if you are driving in town, that motorbikes come veering towards you on the wrong side, even in a one way street. There seems to be a blatant disregard to the left hand rule by the two wheel brigade and even some cars and minibuses prefer driving on the right.
Take Care When Behind The Wheel
Driving in Thailand can be best described as an adventure, and care should be used at all times when on the road. Thais very rarely honk their horns but they are very impatient drivers. Do not expect to be let into a queue of traffic, but by the same margin do expect a vehicle to come out of nowhere to push into the traffic flow.
Having said all this, in general the main roads in Thailand are very good indeed, especially the Highways and Motorways. Most people travelling in Thailand either drive or fly, as the rail system is almost non existent. So do expect crowded roads and all manner of vehicles travelling on them.
Watch Out For The Unexpected
There are some unwritten laws when it comes to driving in the Kingdom, and one such environment is at traffic lights. Not always is attention paid to the colour of the light, and it is common to see vehicles going through red lights if the driver thinks the coast is clear.
It is a good idea to treat these junctions with due care, and watch out especially for errant motorbikes.
But if you take all these points into consideration then your weekend trip can be a most enjoyable experience. Make sure you hire the appropriate type of vehicle for your trip and many car rental firms in Pattaya have excellent choices.
Maks Car Rental is one of the leading car hire firms in Pattaya and will be happy to advise you on your upcoming trip and what is the best vehicle to rent. Contact us today for a free quote, then simply plan where you want to go.