Food Service Establishments in Pattaya
31.03.2020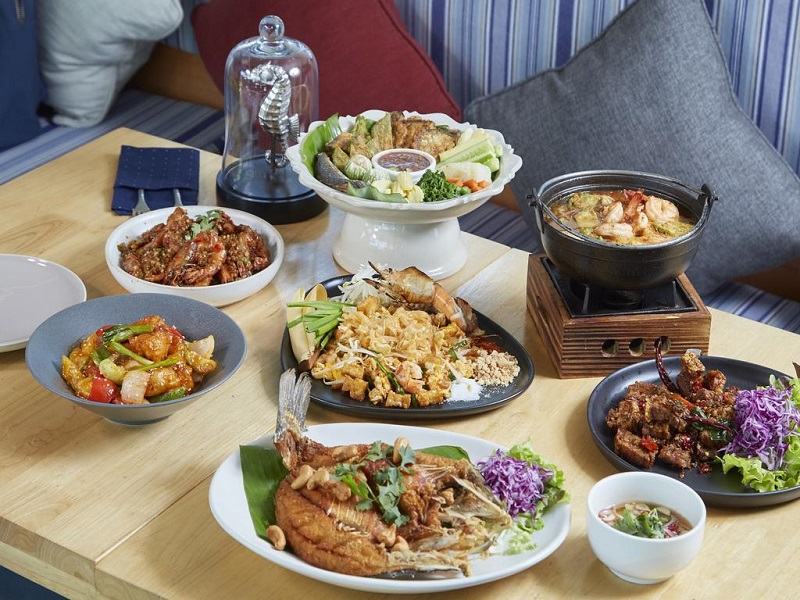 It's impossible to stay hungry in Pattaya! And although the all-inclusive system is almost not developed in hotels (in most places, tourists are offered only breakfast), at every turn numerous bars, snack bars, cafes and restaurants are located throughout the resort, both with traditional Thai cuisine, and with familiar and understandable European cuisine.
Like Thai architecture, Thai cuisine in Pattaya is eclectic, distinctive and unusually delicious.
Contents
The Most Popular Food Service Establishments
Street food
How to get The Most Popular Food Services
National cuisine is based on a combination of strong flavors: spicy (pet), sour (brio), salty (kam), sweet (vaan) and bitter (com). From these flavors dishes are made that can explode on the tongue giving firework of gastronomic sensations that cause genuine delight. Flavor intensity may vary according to the wishes of customers.
Europeans, who are not accustomed to fiery spicy food, should not forget to specify when ordering:
"Maiou pet" - "I don't want spicy "; "Maioou pet maak" - "not spicy, slightly peppered", or "ou pet pet" - "I want spicy "
For travelers it's not enough to visit cafes and restaurants in Pattaya in order to have time to get acquainted with Thai cuisine during their sea vacation in Pattaya, appreciate it, enjoy and fall in love with local cuisine. Tourists just must visit several authentic restaurants located in the vicinity of Pattaya.
You can do this with maximum comfort with the help of the MAKS Car Rental, without wasting time on trips and depending on public or sightseeing transport. Representatives of the company will help each visitor rent a car in Pattaya: a compact mini car, SUV or a roomy car. Renting a car in Pattaya will allow travelers to visit the maximum number of interesting places during their stay at the resort: architectural and cultural sights, beaches with the clearest water and snow-white sand, nature reserves, zoos, water parks, oceanariums, amusement parks and other "attractions", represented around Pattaya in abundance.
The Most Popular Food Service Establishments
You can eat tasty and inexpensive food in Pattaya at any time of the day or night. Among the establishments most taken a fancy by our compatriots are:
8 Horseshoes Tavern in Pattaya, a cozy restaurant where visitors will be offered delicious dishes similar to homemade ones. It is not difficult to find the tavern; it is located on the way from the Jomtien beach area to the center of Pattaya. The multinationality of the popular resort was fully taken into account when developing the establishment's menu. Here you can have both dishes of "your native" cuisine and traditional Thai dishes, as well as "fast food" (pizza, sushi, burgers) that is usual for many people. In addition to traditional meals, the cafe regularly conducts master classes on cooking Thai dishes for those who like to experiment and cook at home. The motto of the establishment is as follows: "Relaxing like in paradise, eat like at home!" The average bill is $ 20.

Crocodile Cafe in Pattaya, an excellent restaurant with European and Thai cuisine, friendly waiters and a pleasant atmosphere. This establishment located in the Jomtien recreation area will perfectly suit for daily meals because the prices here are quite affordable. Modern European music can be heard from speakers; there is free Wi-Fi; there are tables both under the roof and in the fresh air.

Ninja Unlimited BBQ Buffet Restaurant in Pattaya, which offers the best buffet with seafood, vegetables, meat, fruits, desserts, side dishes, sauces, and several prepared dishes. Drinks are charged separately. Each group of visitors occupies a separate table with a barbecue grill, on which pre-marinated ingredients are cooked. The cost of the standard menu is 199 baht per person, the cost of extended one is 399 baht per person. For additional 20 baht (per dish), you can invite a cook who will help with the cooking. One Ninja Buffet can be found on 3/246 Pattaya 3rd Road; the other one is on Jomtien 2nd Road.
Antoshka Cafe in Pattaya, a cafe with simple but delicious European, Russian and Thai dishes not far from the Big Buddha, with affordable prices and pleasant service.
Pattaya Park Restaurant in Pattaya, a restaurant on 52-54 revolving floors with panoramic views. The establishment offers a buffet. Entrance fee for an adult is 600 baht, for a child it is 400 baht, while children who are less than 80 cm tall are allowed to enter for free.
Mantra Restaurant in Pattaya, an excellent establishment for groups of friends wishing to try the dishes of seven world cuisines in one place. The restaurant's interior is fashionable and stylish and doesn't look like any other: open kitchens where chefs conjure over the dishes right in front of visitors, comfortable furniture, friendly waiters, a wide range of wines from all over the world.
Pupen Seafood Restaurant in Pattaya, a popular establishment near the sea in Jomtien Beach with a wide selection of fresh seafood and quite reasonable prices. There is a crab monument placed near the entrance, and because of this, our tourists call it simply "Crab". In the restaurant premises, there are several aquariums, out of which visitors can themselves "get" their future dinner or supper, which will be cooked for them quickly and incredibly tastily by the chef. Across the road, right by the sea, there are another couple of dozen tables. Here you can try shrimp (from 450 baht), mussels (from 240 baht), squids (from 180 baht), crab (600 baht / kg), lobster (300 baht / 100 g), etc.
Salathai Restaurant in Pattaya, an establishment next to the Ambassador Hotel with an extensive Thai cuisine menu and seafood: here you can try traditional Tom Yum or chicken soup, duck or pork cooked in Thai manner, as well as their exotic dishes from shark, crocodile, frogs, etc. There is also a European menu here with borsch, dumplings, and Olivier salad.
Nai Por Unlimited Buffet Restaurant, a perfect place to eat tasty and inexpensive food in Pattaya. It offers a buffet where visitors themselves cook seafood at a table with a built-in pot and barbecue device. You can also find ready-to-eat prepared dishes here: soups, French fries, rice, chicken nuggets, pasta and spaghetti, meat and poultry dishes, vegetables, fruits, fruit compote, tea, ice cream, waffles, cookies and various sauces. You can order meat, poultry, or fish steak, which will be cooked for you on a huge roasting pan. You will have to pay separately for water, beer, carbonated drinks, smoothies and ice. Entrance for an adult is 299 baht, children, who are less than 90 cm tall, are allowed to enter for free; the fee for children up to 120 cm tall is 149 baht.
Mae Sri Ruen Fast Food Restaurant, a chain establishment with Thai cuisine located on Beach Road, where you can find satisfying, tasty and cheap food in Pattaya. Chicken noodle soup will cost 50 baht here, pork sauté - 120 baht, Tom Yam soup - 150 baht, shrimp and pork wonton soup - 65 baht, Som Tam salad - 65 baht, etc.
Street food
And the variety of street food in Pattaya will allow you to try something new every time. The amazing thing is that many ordinary Thais cooking on the street are more skilled than cooks in some well-known establishments.
Thais can probably be called the most chewing nation. Wherever a tourist finds oneself, he will always find a store, a small shop, a street wheeled vendor cart and can have a delicious and inexpensive meal
There is a huge selection of native colorful Thai dishes at the night market, on Thepprasid Road. The dishes most loved by our tourists include fried sausages, fish and meat balls, Thai pancakes with fruits, fish in different variations, Thai steamed dumplings, sushi, vegetables, fried meat, freshly squeezed juices, fruits and Thai desserts. Street food can also be enjoyed both on Beach Road and Walking Street, where it is a bit more expensive due to the influx of tourists. You should not past by homemade burgers with a huge cutlet or ham, fresh salad and a delicious bun. A big number of shops prepare Arab shawarma and a satisfying Arabic kebab.
The government strictly monitors the quality and preparation conditions of Thai fast food in Pattaya. Thousands of family cafes and street vendor carts have received government certificates: Mae Sri Ruen, Clean Food Good Taste Plus, Healthy Menu, Bangkok Food Safety City, Clean Fresh Market, which are usually displayed in the most prominent place. Thais are very scrupulous about food. It is worth considering that the lack of a certificate does not mean unsanitary conditions; the owners just have not applied for it.
To find the real star of street food, tourists should pay attention to stickers on carts, reward signs on trays, photos and newspaper clippings in frames, all that Thai street cooks and home cafes are madly proud of.
How to get The Most Popular Food Services
To be able to freely visit most popular food services at any time, recommended to take a car for rent in Pattaya. You'd better turn to professionals with this issue. The company MAKS Car Rental will pick up a vehicle that suits your needs and wishes. It can be a compact mini car, a powerful SUV or a family minivan for a large group of friends.
A car rented from MAKS Car Rental will help travelers significantly save time, not be dependent on public or sightseeing transport, which will make a vacation in Pattaya as comfortable as possible.