MAKS CAR RENTAL EARNS 4.9 OUT OF 5 STARS ON FACEBOOK REVIEWS
11.09.2016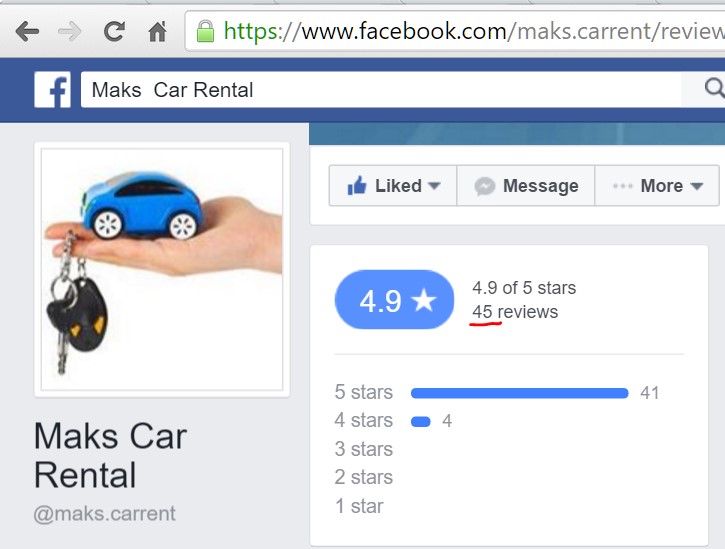 Pattya has many rental car companies to choose from including the big three, but if you are looking for a local alternative then MAKS should be your 5 star car rental company of choice. You shouldn't take our word for it though. Take a look at what customers that rented at MAKS since September 2015 have to say about the company! With 45 reviews, 41 of which are 5 star with a handful of 4 star reviews and nothing below that, with an impressive overall average review score of 4.9 stars. It is clear MAKS is a true 5 star experience.
If you visit the Facebook page of MAKS you won't see a lot of activity from the company side, but the customers are very active. 45 positive reviews have been left in the last 11 months. Reviewers hail from at least 12 nations including renters visiting Thailand from Slovakia, Australia, Russia, USA, Indonesia, Denmark, Sweden, Germany, Sweden, Japan, Kazakhstan, and the UK. 19 of the 45 reviews are written in English and it is clear that people from around the world are ecstatic with the service they are receiving at MAKS.
Staff offer 5 Star Concierge Level Service
One gentleman arrived and the car he had reserved did not suit him. They took care of the customer and switched his car to one that would work better for his situation.
According to Andrew:
"Rented a car for 21 days the car was excellent on fuel and ran very well. I would like to thank the staff at Maks car rental for being so accommodating as when i went to pick the car up i had hired i did not fit as i am a large person but it was no problem they found a car I fitted into and was really helpful"
Everything is Documented and Fair
There are horror stories that plague Thailand and Pattaya in particular, especially when it comes to rentals. MAKS understands this and to ensure all clients feel safe and secure everything is detailed very clearly in the contract so customers know exactly what to expect. 3 day rentals, or 3 months. MAKS is fair to all renters!
According to Maurizio
"Rent a car for 10 days, pick up at my Condo. Car in very good condition. Every mark or scratch has been mentioned in rental contract. Next time for sure will be my rental company!!!
Best price, very good service, staff clever in solving problems you can face.
The best one in Pattaya!!!"
According to Hugo:
"I hire the car from Maks car rentals for 3 days.
Cars are in excellent condition and every mark has been registered. I was pleasantly surprised how economic cars are on fuel. Price rentals are very good.
I highly recommend Maks car. Stuff is very friendly and helpful."
Competitive Pricing Free GPS, and Child Seat
Not only are the prices very low for rentals at MAKS, what you get for your rental is more than what is included at most competitors. Add the late model years of their 80 vehicle fleet and you end up with customers who have this to say.
According to Bodhan
"Strongly recommend this company if someone is looking for renting good quality car in Thailand. Very reliable service and friendly staff . Responding fast on email. The best prices for long term rental in the city. Free babyseat
Free Local Delivery to Hotels and Condos
For all rentals over 7 days MAKS provides free local delivery to Pattaya and Jomtien Beach. This feature comes up review after review. There is also airport service available.
According to Nana
"Car is very clean and efficient service. Contacted by email, very fast reply. Delivered to the hotel so no need to go to the office to pick the car up. We'll use it again when we visit Pattaya next time!"
Women find MAKS Safe and Reliable
The first review was kicked off by a woman, and they continue to report that MAKS is safe and reliable, and again these customers would rent again or recommend to a friend.
According to Susan:
"Maks carrental is a very honest and serviceminded company, I prefer only to use Maks carrental when I am in Thailand - and I recommend them strongly"
Late Model Cars in Good Condition
MAKS fleet is over 80 strong, with economy cars, sedans, trucks, SUVs and minibuses all available for short term or long term rentals. Cars are all maintained to the manufactures suggestion at authorized dealers. Our clients get this and appreciate what we go through to keep the cars looking and running in great working order.
According to Marcel:
"Great rental service easy to pay eith Paypal st a verry good rste. Nice clean cars with are in good condition rented car for 30 days"
MAKS Car Rental Pattaya's 5 Star Rental Agency
The service at MAKS is impeccable. From price, to quality, to the staff the renters all agree that MAKS is a great choice for renting a car, truck, SUV or minibus in Pattaya. Whether for short term or long term. The results are obvious with a 4.9 star rating on Facebook MAKS is a reliable and easy company to rent from in Pattaya.