Markets of Pattaya
30.03.2020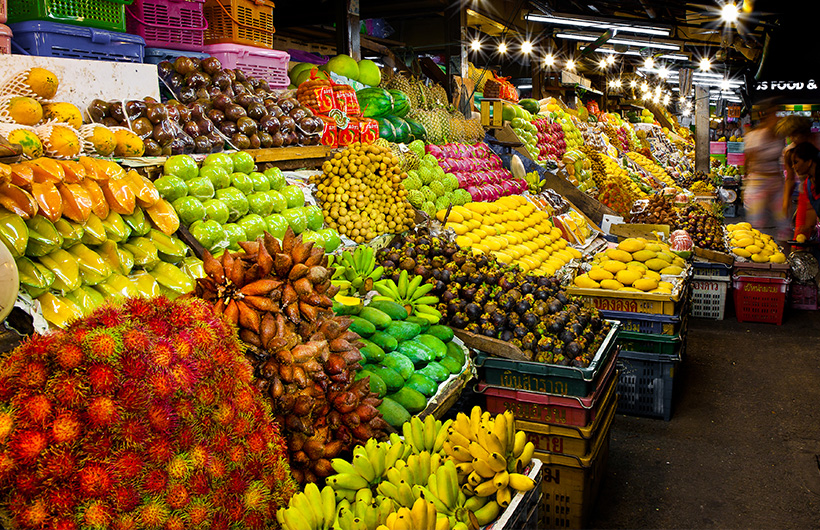 Pattaya is a well-known, popular resort, which is visited annually by more than 5 million tourists. In a short period of time, a small fishing village, the beaches of which were favored by sailors from a nearby US naval base, grew into a large city. Pattaya is located in southern Thailand, its beaches are washed by the waters of the Gulf of Thailand of the South China Sea, which flows into the Pacific Ocean.
Contents
Night market
Fish market
Where to buy tropical fruits
Trading on water
How to get there
Here is available leisure suited to every fancy:
white sand beaches and clear sea, surfing, diving, sea excursions, water skiing or riding wave runners, and, of course, tranquility and relaxation on the beach under palm trees;
excursions fitting every taste: ancient temples and palaces, waterfalls and mountain rivers, zoos, oceanariums, nature reserves, amusement parks, water parks, crocodile farms and much more;
the resort's nightlife is known far beyond its borders: cafes, bars, restaurants, clubs, theaters, shows for adults - entertainment for all ages, every budget and for any level of modesty.
Another attraction is the colorful markets of Pattaya, which offer a wide variety of products, from trinkets and souvenirs to exotic wares. On the marketplaces of the resort, it is easy to renew your wardrobe or enjoy traditional local dishes at a low price.
In Pattaya, markets, which are called by locals just so - "markets", operate at different times of the day and under different conditions: day - night, on land - on water. Some of the marketplaces were created especially for visitors, others for residents of the resort and its environs, but guests are welcome everywhere.
Want to buy cheaper?
Choose markets where local people shop.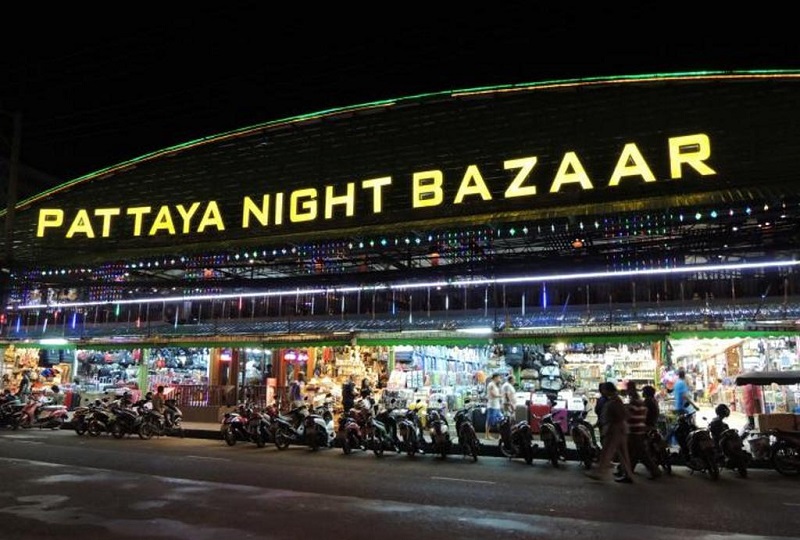 Night market
The most famous and crowded is the largest night market in Pattaya - Thepprasit Night Market. This place has everything: clothes and shoes, souvenirs, pet supplies, leather goods, inexpensive jewelry, watches, bags (high-quality replicas of popular brands), products of Thai artisans and so on and so forth. The better half of the market is occupied by tents with food products. There you can find in abundance strange tropical fruits, unusual for holiday-makers, and also try local street food. So, a plate with grilled shrimps will cost from 100 baht, fresh juices of exotic fruits and smoothies - on an average 30 baht, barbecue - 15 baht, hot dishes of your choice - 40-60 baht. Prices for clothes and shoes are also very pleasant: a T-shirt, for example, will cost on an average 100 baht, and a sundress - 120-150 baht.
Thepprasit Night Market is a weekend market. It works from Friday to Sunday, from 5.30 p.m. to 12 a.m.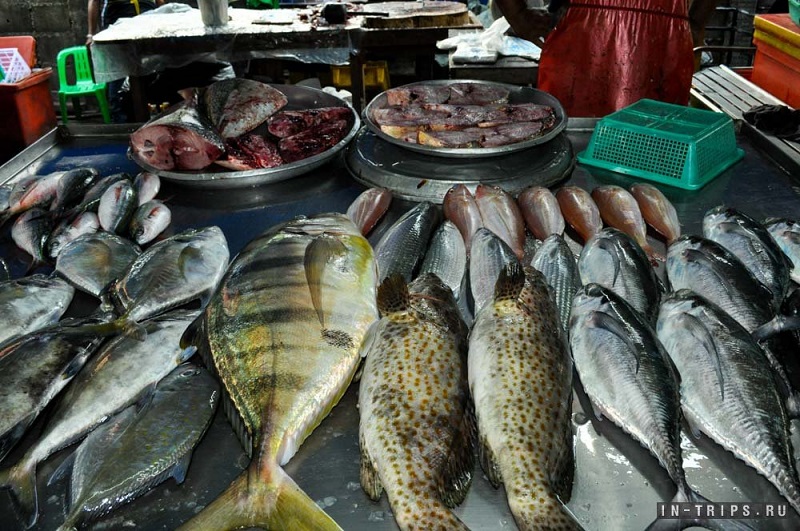 Fish market
attractive place for visitors is the fish market in Pattaya, which is located in the northern part of the resort, on the Naklua beach next to the fishing pier, from which dozens of boats leave daily for fishing. The warm waters of the Gulf of Thailand have become a favorable environment for a wide variety of marine life, which is why you can buy all sorts of fish and seafood at the fish market, and besides, at the most affordable prices. There are lobsters, mussels, shrimps, oysters, crabs, shells, octopuses, cuttlefish, squid and, of course, dozens of varieties of fish. In addition to the freshest marine inhabitants, often still floating in the trays, you can also buy dried seafood. Here you will be helped, as well, to cook what you have just bought.
The market runs from 5 a.m. to 5-18 p.m. daily, but in fact the market closes as soon as the goods end. But it's not worth it to come shopping early as in the morning they can sell the remnants of yesterday's catch. The peak of the trade here falls on the period from 8 to 11 a.m.
Here you can also buy other products: meat, vegetables, eggs, fruits, sauces. There are tents with household utensils (pots, plates, spoons, etc.). At the beginning of the market there are several cafes offering visitors traditional dishes (from 30 baht per serving).
Car Rental in Pattaya will allow travelers to visit the maximum number of interesting places during their stay at the resort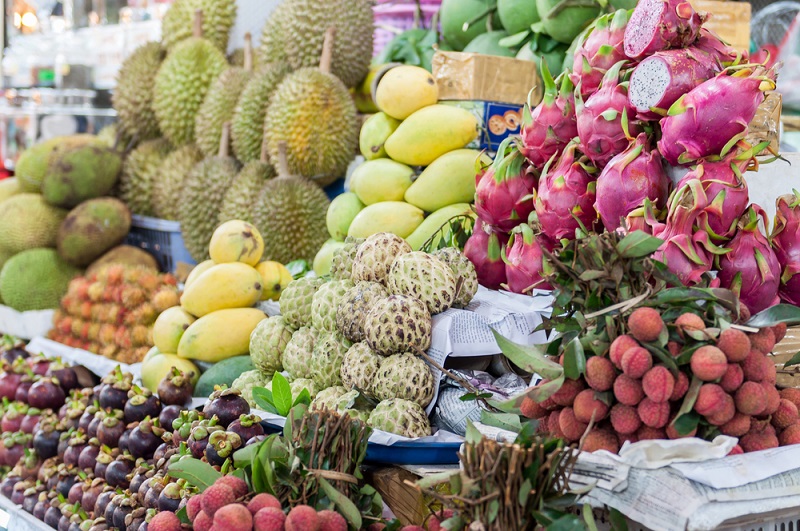 Where to buy tropical fruits
Inexpensive vegetables and fruits in Pattaya you can buy in specialized markets.
Pattaya's only fruit specialized market is located on 2nd Street, not far from the Mike Shopping Mall. Here guests will not find other goods except bananas, mangoes, pineapples, rambutans, lychees, mangosteen and other exotic fruits, mainly of Thai origin. The market is not large and is designed exclusively for tourists, therefore the price tag is higher than in other markets selling vegetables and fruits, but you can still agree on a price. At the request of customers, merchants pack the purchased goods in special baskets in which fruit can be brought home safe and sound. The products here are top-quality: you will not find darkened bananas or mangoes.
The fruit market in Pattaya is open from 8 a.m. to 11 p.m.
An alternative would be the Ratanakorn grocery market in Pattaya, which is located near the Colosseum show. There is a wide range of fruits and vegetables at the most affordable price in Pattaya. The market is mostly visited by the locals, who make wholesale purchases, but a visitant will also leave here heavy-handed and with money saved. Though it's worthwhile to look after the merchants, some like to round up the purchase price to their advantage, or try to cheat on weight. In addition to the cheapest fruits and vegetables in Pattaya, there are a small number of tents with pork, poultry, seafood, amazingly tasty sweets and products useful in the household.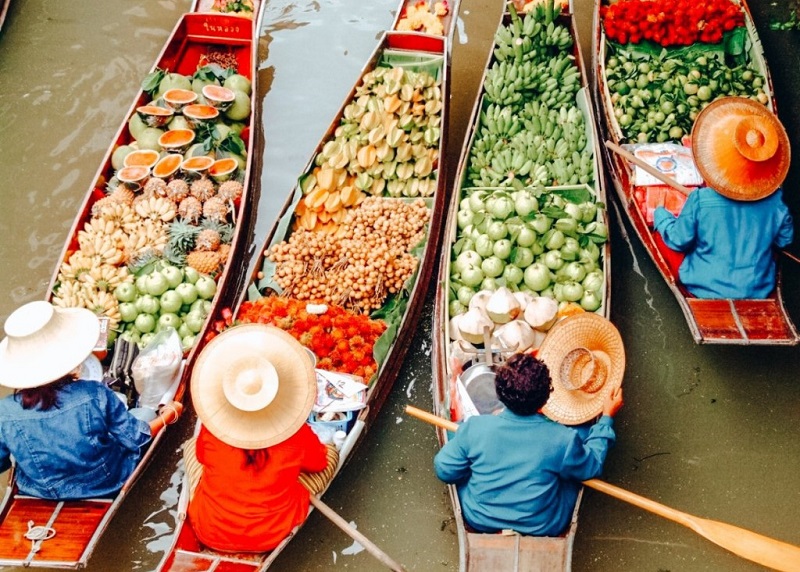 Trading on water
The floating market in Pattaya is the largest market of such kind in all of Thailand. Though this marketplace began to function only in 2008, a similar way of trading has been inherent in Thais for centuries. There are similar exotic marketplaces in other provinces and settlements of Thailand, but the Pattaya water market is the most colorful and attractive for tourists. Wooden platforms, connected by bridge crossings, are supported by piles driven into the bottom of the lake. Between the platforms you can easily sale in a boat.
The territory of the market is small, you can slowly walk around it in 30 minutes, but it holds more than a hundred tents. The market is conditionally divided into 4 parts, each of which presents exclusive products from different provinces. They sell utensils, souvenirs, Thai cosmetics and medicines, dishes, clothes, jewelry and many other goods.
At the floating market in Pattaya, you can eat tasty and inexpensively by visiting a shop or restaurant serving national cuisine, and the emotions of such a meal on the water will linger in your memory for a long time.
Here, tourists will be offered dishes from shark, crocodile and snake meat, a variety of seafood, fresh juices from outlandish fruits - gifts of the tropics, delicious Thai desserts.
Here you can see folk dances or stylized battles of Thai soldiers, attend a traditional massage, or participate in a thai box training.
The floating market in Pattaya is open every day from 10 a.m. to 9 p.m. It was absolutely free to visit until 2012, but now that the market has acquired the status of a famous tourist attraction, you will have to buy an entrance ticket for 200 baht.
How to get there
Colorful, variegated, full of various goods - the markets of Pattaya, located in different locations, always attract crowds of tourists. You can get to them by songthaew buses, tuk-tuk or taxi.
But the most convenient way to get to the markets, and even more so to return with purchases, will be in your own car rented from MAKS Car Rental. With us you can book a compact car that will conveniently move around the city and its environs, a 7-seater jeep for trips to the mountains, nature reserves and nature parks, or a family minivan for a group of travelers.
We offer to take care of car rental in Pattaya advance, as, with early booking, the choice of cars will be greater, and the prices - lower. But if you have not booked in advance, it's not a big deal, our experts will pick you a car for rent in Pattaya on the day of application.