Pattaya's beaches
17.01.2020
Being a piece of paradise in the exotic and hospitable Kingdom of Thailand, Pattaya attracts millions of tourists all year round. This famous resort is a coveted destination for exotic adventurers as well as beach lovers eager to swim and soak in the sun, enjoy surfing or diving. Pattaya is just ideal for that!
Washed by the pampering waves of the Gulf of Thailand, the city welcomes visitors with atmospheric beaches and comfortable hotel lines at the seafront. To opt for the most suitable hotel is easier when tourists arrive with a particular Pattaya beach in mind.
Contents
Jomtien Beach
Wongamat Beach
Military Beach
Ambassador Beach
Pattaya Beach
Koh Larn beaches
Koh Lipe beaches
Dancing Girl Beach
Car Rental in Pattaya
Jomtien Beach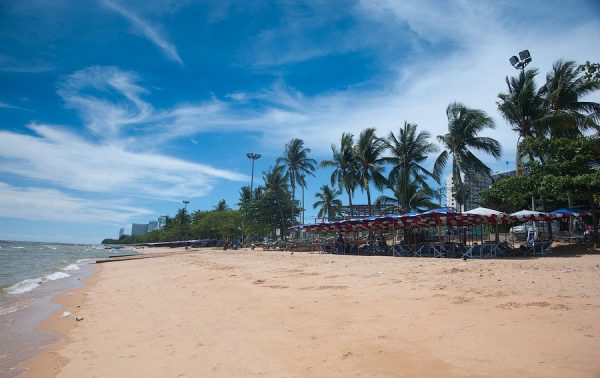 Jomtien Beach is a renowned sandy beach in Pattaya. It is a rather narrow shoreline 6 km long. The drawbacks of its popularity are crowds of people around and no crystal clear waters. Despite that, the place pleases its visitors with its diverse infrastructure. It does not offer only loungers and umbrellas traditional for Pattaya beaches. It has sports grounds housing frequent sporting events. You can rent windsurfing equipment, try water cycling or banana boat rides. Tourists visit the nearby Night Food Market Jomtien selling the most delicious pad Thai in the city, chill out in bars, clubs and restaurants, get a retreat in massage salons.
Jomtien Beach is the longest beach in the Thailand's seashore. Stretching for 6 km, the sandy shoreline does not exceed 10 m on average
The hotel near the central Jomtien beach is ideal for people looking for budget rest options within an easy reach to versatile entertainments.
You can get to the beach from the central bus station by songthaew (tuk-tuk) for 10 bahts.
Wongamat Beach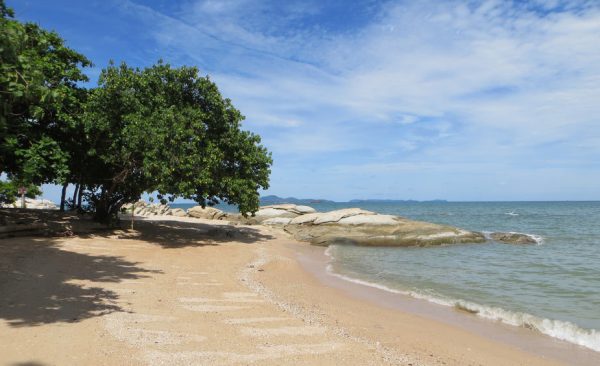 Wongamat Beach is one of the most ecologically clean beaches in the city. It is located in a quiet, idyllic, and cozy area of Pattaya. Within 10 m from the shore, the sea is rather shallow and is perfect for families with kids. The place offers comfortable loungers and beach umbrellas. There is a fenced-protected area in the centre where tourists have water cycles, skis and banana boats at their disposal. The sandy shoreline is rather impressive here – it reaches 20-30 m. Friendly Thais fetch treats on trays, so you can have a bite right on your lounger.
Managers of the first and second line hotels speak fluent English, lots of local restaurants translate their menus into English. Actually, the only people you would come across there are only guests from the vicinity hotels and a few foreigners.
You can get to Wongamat Beach on your own on a hired car or any songthaew going up Second Road for 10 bahts.
Military Beach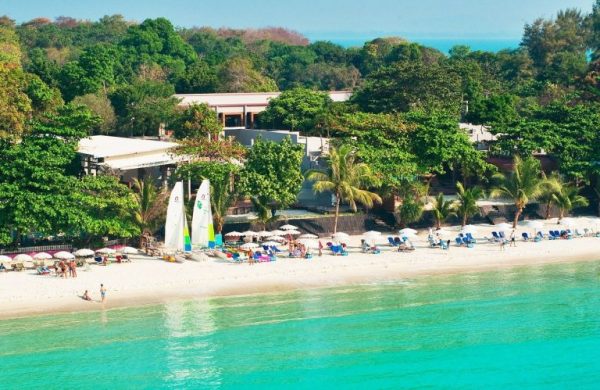 Sai Kaew (Military Beach) is a sandy shoreline 20 km south of Pattaya. It is surrounded by hills from three sides and welcomes tourists with white sand and azure waters. Its shoreline suitable for swimming and leisure is around 500 m long and up to 30 m wide.
The sand edge is trimmed with coniferous trees not common for the locality
The beach is situated on the territory of the military base. There are several food venues with traditional cuisine there. Visitors can use loungers and umbrellas, enjoy various water entertainment options.
Loved by U.S. navy seamen in the 60-es, once a small fisherman village, Pattaya expanded to a huge resort city
You can get to Military beach on your own by a rented car, on a tour or by taxi.
Ambassador Beach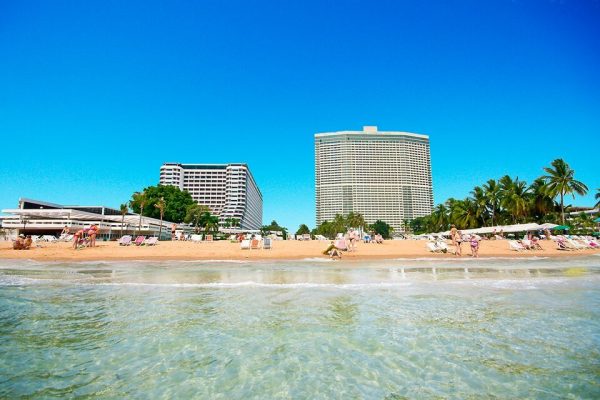 The sandy Ambassador Beach neighbors with the 4-star hotel with the same name near Pattaya. All the beachfront in Thailand is municipal, so Ambassador is open for everyone. The sand and waters are clearer than in Jomtien, and the place for recreation is bigger there.
Its guests can have meals at the hotel restaurant or a budget café nearby offering a wide seafood menu.
You can get to Ambassador Beach on your own by a rented car or public transport for 20-30 min.
Pattaya Beach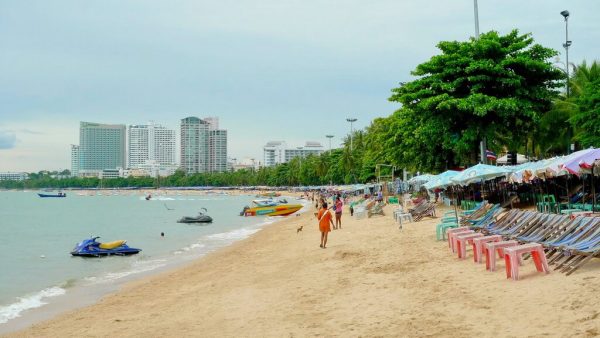 Pattaya Beach is the most popular and busy beach at the resort. There are numerous hotels and hostels nearby. They provide various classes of convenience, and room prices correspondingly. Their guests can go to shopping malls, cafes with inexpensive meals and cheap drinks. The beach is thoroughly cleaned by municipal services but workers do not always succeed in the peak season. You can rent a lounger with a beach umbrella, catamaran or water scooter here. Boat parachuting and other activities are available as well.
Right from Pattaya Beach, you can get to the famous street of the city – Walking Street – to discover endless bars, massage salons, and all sorts of clubs.
A ride on a public songthaew from Wongmat or Jomptien beaches would cost you 10 bahts, from the Northern bus station – 20 bahts.
Koh Larn beaches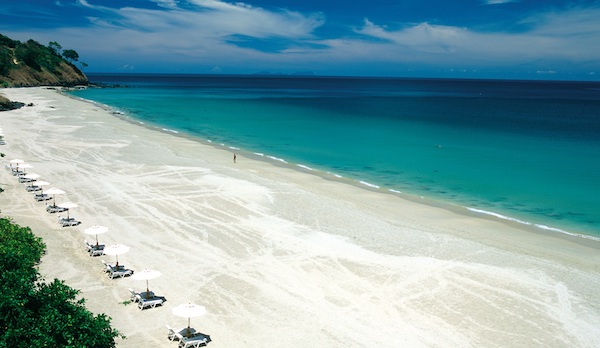 The beaches of the coral island Koh Larn within a 30-min ferry voyage are all about white sand, azure sea, and serenity.
The island houses beaches to anyone's liking: rather crowdy, with a well-developed infrastructure (Tawaen, Same, Tien), semi-wild small beaches (Nual – Monkey beach), Tayay, Sangwan) and virgin-pure wild beaches available only from the sea.
Koh Larn tourists would never forget diving, snorkeling, sea fishing as well as riding on omnipresent catamarans, banana boats, and water bikes.
Koh Lipe beaches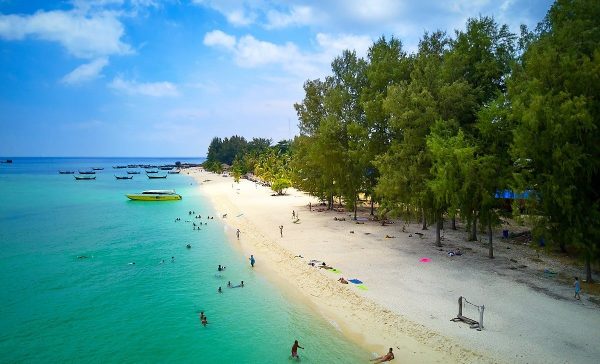 The paradise-like Koh Lipe is a private island-hotel enjoying the glory of the Thai Maldives is 12 km of the beachfront. Stunning coral reefs with rich marine flora and fauna surround the island promising unforgettable submerging. You can gaze at sea turtles and magnificent peacocks habituating there, soak in the sun, or indulge on crystal-clear waves.
The cosy and serene atmosphere contributes to deep relaxation.
Dancing Girl Beach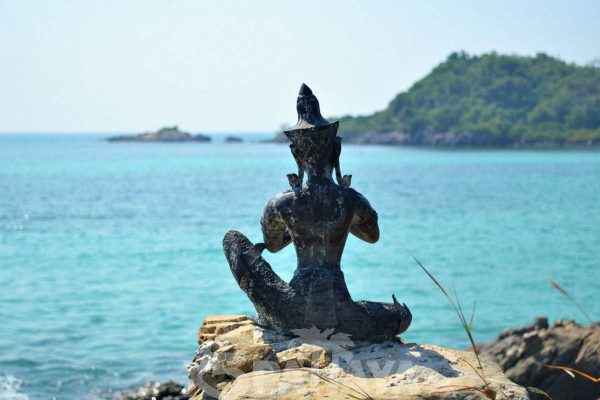 The sandy beach Hath Nang Ram known as Dancing Girl Beach is the cleanest beach area near Pattaya. White sand, pure sea and unparalleled atmosphere make it an ideal place for swimming, sunbathing, and relaxation.
An ancient legend tells that the locals used to hear a splendid melody from the uninhabited island Koh Nang Ram across the sea. It stirred a dancing girl in their imagination. The beach owes her its extraordinary name ever since
A bungalow of the local hotel, a couple of cafes with delicious food and souvenir shops keep a little aside. The beach is located in the picturesque Sattahip harbor, 40 km away from Pattaya. It is perfect for people seeking remote sea recreation, far from noisy entertainment venues. Its guests can rent a comfortable lounger and a beach sun-protecting umbrella, enjoy a speed boat, sea scooter or banana ride.
You can get to Dancing Girl Beach on your own from Pattaya only by rented car, private vehicle, joining a tour or by taxi.
Car Rental in Pattaya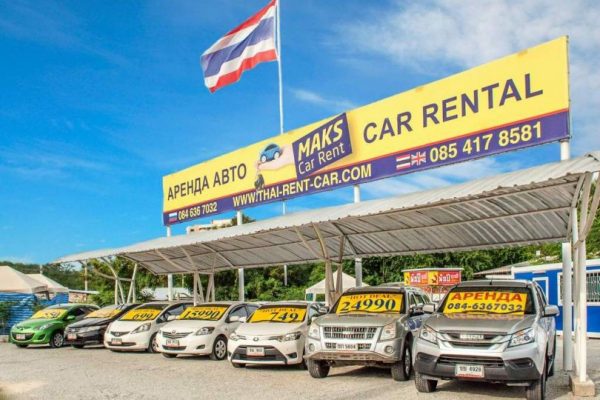 To visit multiple Pattaya beaches, tourists obviously need to hire a car. The simplest way to do it is to use the services of our company MAKS Car Rental.
We have been operating in Pattaya for 10+ years providing our clients with various vehicles for short-term and long-term rent. Our motor car park comprises:
urban passenger cars;
minivans for families and big companies;
pickups and off-road vehicles for those who enjoy outdoor activities.
We offer vehicles with air-conditioning, satellite navigators and child car seats, we give you the freedom not to depend either on other people or circumstances.
Feel free to choose and book a car to your liking on our site. We guarantee that on your arrival, you will get the exact vehicle you want.
Even if you forgot or lacked time to book a car before your journey, please call or text us on any messenger at +66 (84) 636 7032.