ROAD TRIP TO THE RONEAM DAUN SAM WILDLIFE SANCTUARY
13.12.2017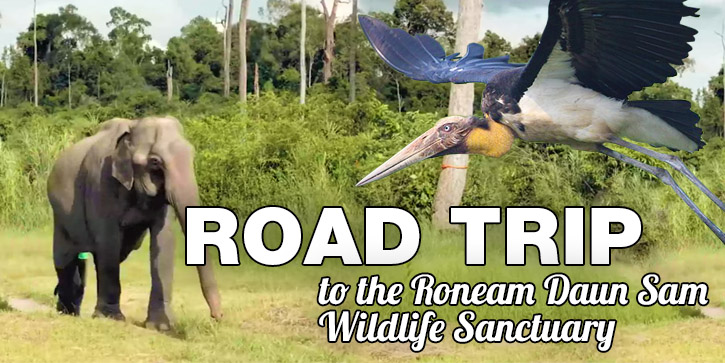 If you like driving and you also like animals then the perfect road trip to take from Pattaya is to the the Roneam Daun Sam Wildlife Sanctuary. A journey of just under 300 kilometers this great drive is best undertaken at leisure, perhaps over a weekend.
The first two essentials you will need to undertake this fantastic road trip is a decent hire car and a Cambodian Visa. Both are relatively easy to secure, Maks Car Rental has a comprehensive fleet of vehicles and a vehicle such as a Chevrolet Cruze or a Mitsubishi Pajero would be perfect for this journey, your perfect car rental in Pattaya is accessible from MAKS. The visa can be obtained online and is valid for thirty days.
The Route
There are two possible options you can take to make this journey and the most direct way is via Route 3259, although you can drive up nearer Bangkok and take Route 7. For this particular road trip we have chosen the former.
The first leg of your journey is on the 331 to Nong Samet where the road changes into the 3340. Keep on the road to you arrive at Bo Thong where the road changes again to the 4084 and you can stop off at many of the roadside food vendors for a spot of lunch before continuing on the 3259 to your final destination.
You will cross the Cambodian border at Sampov Lun where you will have to produce your papers and then you can enter Cambodia and on to the Roneam Daun Sam Wildlife Sanctuary.
Roneam Daun Sam Wildlife Sanctuary
This sanctuary is a one million acre animal and environmental conservation project. The sanctuary is also a haven for rescued animals and helps to preserve the forest biome.
Another key element that the sanctuary provides is to preserve the diminishing jungle and its wildlife. Most of the sanctuary is a vast lowland with deciduous forests and seasonal wetlands.
The animals that can be seen here are the Tiger, Banteng, Eld's Deer, Asian Elephant, Greater Adjutant, Sarus Crane, Siamese Crocodile, Turtles and White-backed and Slender-billed Vultures.
It is truly a wonderful place with a rich forest environment and a diverse wildlife, and provides many jobs for the local community. The sanctuary operates its own gardens where it grows organic food such as fruit and vegetables, the produce gleaned is used to feed the many workers and team members.
This road trip although in itself is not the most picturesque journey you can undertake in Thailand. But it is still rewarding as there are many small lakes, wats, temples and enchanting villages that you pass on the way to the Roneam Daun Sam Wildlife Sanctuary.
It is worth leaving a good few days for your exploration of the sanctuary as there is so much to do and see. You can even apply to be a volunteer to work at the sanctuary, and have a working holiday.
All in all you will not regret spending time traversing the Thai countryside to visit this unique part of Cambodia.