A WEEKEND DRIVING AROUND PATTAYA'S TOURIST ATTRACTIONS
13.12.2017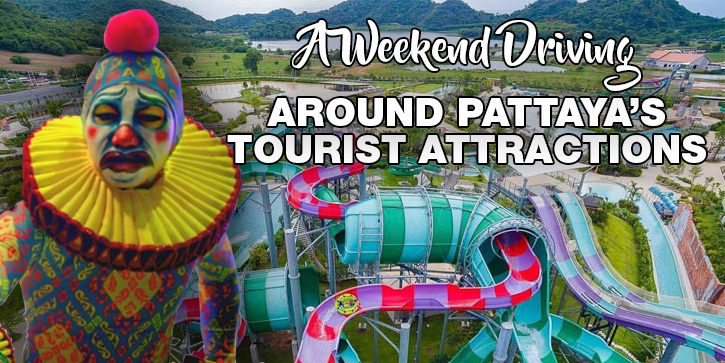 If you are a resident of Pattaya and have not been to some of the city's great attractions for a while, you may be surprised just how many new attractions there are to see and exciting things to do.
One of the best ways of getting around all these terrific attractions is by car, and if you do not own one then it is really easy to hire a car for the weekend.
The are many car hire companies in Pattaya, and one of the best is MAKS Car Rental on Jomtien Second Road.
The following are some of the newer attractions that have opened up recently or old favourites that have new shows.
Khan Show
One of the most glamorous and exciting additions to the Pattaya Attractions Scene. This is a "full on" spectacular event for the whole family and is in one of the most high-tech theatres in the whole of Asia.
Located on Thepprasit road in Jomtien, the D'Luck theatre is an auditorium without comparison. It is a 1,500 seat super theatre, that has a state-of-the-art sound and lighting system. It takes performance art to another level combining it with film, and has the full backing of the Singha corporation.
The show focuses on young Khan and his incredible journey when he opens a magical book with a hidden glass key. The key shatters and his sojourn begins to recover the broken shards of the key from enchanted lands.
Pattaya Sheep Farm
A great venue for the whole family to spend some outdoor fun and play with the animals. Pattaya Sheep Farm is much more than the name suggests, it is a vast theme park dedicated to many animals and not just sheep.
There is also numerous fun rides such as ferris wheels, roundabouts, magical castles, a water park, and soon to come a bird park.
Pattaya Sheep Farm is a wonderful day out, for old as well as young, and extremely good value for money. There is a great Steak-House restaurant on site that offers kids meals free if they pass the ruler test of height.
Ramayana Water Park
Ramayana is one of the biggest Water Parks in the whole of Asia, with some fantastic and thrilling water rides. Ramayana Water Park has a stunning location overlooking Silverlake Vineyard and offers the visitor so many rides and thrills.
It mixes up the wet fun with daring water slides combined with pools to relax in and two large areas for kids. The Parks' largest pool is the Double Wave Pool which also has 150 meter long beach.
Some of these attractions are out of the city centre therefore the only practical way of getting around them all is by car. At MAKS Car Rental we can offer car hire at really reasonable rates for modern and fully equipped vehicles with comprehensive insurance. Contact us today to book your Pattaya car hire, then set off on a great weekend of visiting all the best attractions that Pattaya has to offer.