WEEKEND DRIVING DESTINATIONS CLOSE TO PATTAYA
04.07.2017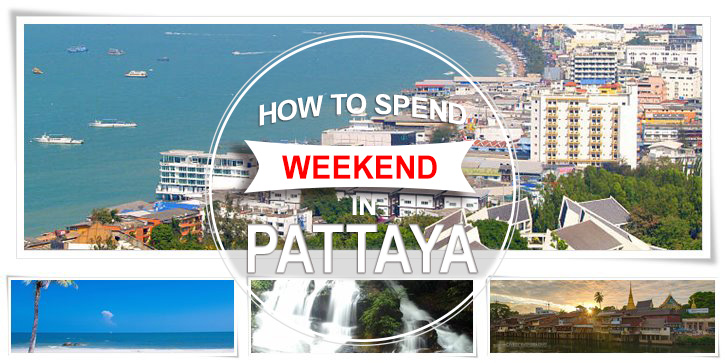 Pattaya is the perfect base for weekend driving trips around the eastern seaboard and further afield. If you don't own your own transport it is not a problem, simply rent a car in Pattaya then plan your mini-holiday.
There are so many options open to the weekend holiday maker, from cultural trips to the countryside to beach trips along the coast. Here are some great ideas for weekend driving destinations only a few hours from Pattaya.
Hua Hin
Hua Hin is a great idea for a weekend visit, roughly fours drive from Pattaya the sleepy seaside resort is perfect for a getaway from the city. Hua Hin has been a favourite destination for the Royal Family of Thailand for generations, and there is still a Royal Palace in the town. Hua Hin is a far more reserved place than its noisy cousin Pattaya, and the sleepy atmosphere is quite enchanting. The main beach is fantastic with fine white sand and crystal clear water. Gentile activities such as pony rides are about as lively as things get for beach goers.
If you like seafood and fish, Hua Hin is excellent. There are plenty of bijou seafood restaurants jutting out on piers into the sea, that offer sumptuous fare and perfect scenic backdrops of the Gulf of Thailand.
Khao Wong National Park
The Khao Wong National Park is named after two mountains and has been a national park for over forty years. Situated close to Rayong it is a picturesque forest complex and has many beautiful waterfalls, viewpoints, caves, limestone mountains, cliffs and tremendous outdoor pursuits.
Weekend visitors can take advantage of the accommodation available in the park which includes bungalows and camping and allows people get right back to nature.
There are some exciting animals to discover in the park including elephant, gaur, Indochinese serow, bear, leopard cat, pileated gibbon, banded langur and boars.
Also there are some spectacular waterfalls to see in the park and is the reason why many visitors come time and again. The main two are Klong Pla Kang and Khao Chamao and visitors are allowed to swim in the ponds that are formed on the plateaus as you ascend the climb.
Chanthaburi
Chanthaburi is renowned for its bountiful tropical fruits, seafood, stunning waterfalls, relaxed coastal region, rich history and a distinctive cultural blend.
Chanthaburi town is the provincial capital and is an absolute melting pot of Asian cultures who have flooded there to seek their fortunes in the city's lucrative gems trade.
Close to the border with Cambodia the charming French influenced buildings and Thai-Chinese temples are tucked away down a maze of narrow alleys that weave their way alongside the Chanthaburi river. Even the largest church in Thailand, the Cathedral of the Immaculate Conception adds its blessing and gives visitors a reminder of the old Catholic Vietnamese past.
Driving in Thailand is fairly easy to understand as most of the major road signs are in English as well as Thai, and the major roads are well surfaced and maintained. Thai drivers do have a reputation for being a little unpredictable so it is advised to watch the road carefully at all times.
To reach these spectacular destinations, car hire in Pattaya is your best choice as it is so reasonable and convenient. Reputable companies such as MAKS Car Rental Pattaya have a wide choice of vehicles that can suit any weekend drive that you can think of.